Total Wellness at The Lodge at Blue Sky
A cliffside wellness sanctuary dedicated to physical and energetic alignment
Aptly named for its dramatic location perched on the side of a dramatic precipice overlooking Alexander Creek, Edge Spa seeks to restore guests after an enriching day exploring the great outdoors. Five treatment rooms house regionally inspired treatments and products which feature natural, bloom-to-bottle ingredients, some of which have been grown or wild-harvested on-site. Yoga, guided meditation and breathwork invites guests to get grounded and reconnect with themselves.
Five luxurious treatment rooms overlooking Alexander Creek

Natural products featuring wild-harvested ingredients

Indoor and outdoor yoga and guided meditation

Relaxation area with outdoor heated plunge pool, overlooking the creek

Physical and energetic treatments
---
---
---
Featured Spa Treatments
Intuitive Energy Journey
Begin your journey with a brief consultation while enjoying herbal-infused handcrafted tea. Your healer will guide you into a state of meditation, sharing intuitive findings for healing blocked energetic pathways. During this meditative session, you will uncover patterns and truths, and experience new ways to come home to your body and connect to yourself in a more profound way.
High West Whiskey Rubdown
A journey back to the old West begins with a whiskey, salt and sage foot soak, paired with a shot of High West Whiskey. An old-school massage that begins with warm towel compressions, loosening any tension in the body, followed by therapeutic muscle liniment brings the body to an even greater state of relaxation. The treatment includes a foot scrub and scalp invigorator for the ultimate unwind.
The Essence Facial
Allow extracts and essences in their purest and highest state unfold their power to ground your being, all while performing healing effects on your skin for a supple, clear and luminous complexion.
---
---
Mindfulness and Movement at Blue Sky
Blue Sky provides guests a plethora of opportunities to reconnect with themselves and with Mother Nature in our epic mountain setting. Whether you prefer a sunrise hike to a secluded alpine field for outdoor yoga, or a private in-room session, we cater to your individual wellness goals.
Complimentary group yoga classes offered daily
Private yoga
Adventure yoga
Yoga for corporate groups
Heli-yoga and guided meditation
Family yoga
Vertical vinyasa
Snowshoe and yoga
---
Offers
Edge Spa Day Pass
Call 435.571.0347 or book online. Whether you need time to reconnect with yourself or your close friends, join us for the day to move and nourish your body. Choose from a variety of morning movement classes such as yoga, mat pilates or HIIT before savoring a nutrient-dense lunch at Yuta. Cap off the afternoon with a 60-minute massage or facial in Edge Spa.
Offers
Edge Spa Evening Pass
Call 435.571.0347 or email bsk.guestmanager@aubergeresorts.com. Join us for a restorative 60-minute massage or facial at Edge Spa, then unwind in one of our serene spaces: Release toxins in our steam room or dry sauna, or relax in the tranquil Creek Lounge with a cup of organic tea. Cap off the day with an opulent dinner in Yuta.
Offers
Summer All-Inclusive
Call 866.296.8998 or book online. Embark on a morning hike to our outdoor yoga platform for a sunrise practice or savor a gourmet farm-to-table picnic alongside Alexander Creek. Our all-inclusive rate option provides a turn-key booking option that includes all meals and non-alcoholic beverages, airport transfers, and a daily 1-2 hour guided adventure.
Offers
$200 Nightly Resort Credit | Summer Longer
Call 866.296.8998 or book online. Enjoy a $200 credit nightly resort credit with stays of 3 nights or more. Credits can be used towards one-of-a-kind adventures, wellness or culinary experiences.
Awards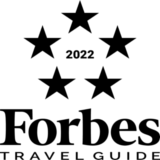 Forbes Travel Guide
Five Stars in 2022