Weddings at Hotel Jerome
Add the next chapter to your epic love story
Our specialists are romantics at heart who delight in collaborating with each couple to create a wedding that reflects their vision and the details that matter most. Along with this highly personalized approach, Hotel Jerome entices with stunning views of Aspen Mountain and the only above-ground ballroom in Aspen. Exchanging vows on the Terrace as the sun dips below the iconic peaks is just one way the story goes. At Hotel Jerome, your wedding will be as unique as you are.
99 guest rooms and suites

400 person reception capacity

Located 10 minutes from the Aspen Airport
Venues
From welcome drinks to farewell brunch, our alchemy gives each wedding event special meaning in its own distinctive setting. You might treat your groomsmen, for instance, to lunch in the cozy and intimate Library, with tables set around a large stone-hearth fireplace amidst walls of books Thousands of square feet of outdoor and indoor space exude contemporary luxury and historic heritage, allowing you to host events without repetition. One constant? A legendary setting.
Antler Bar
With mounted antler heads and vintage rugs, this intimate bar dating back to the hotel's 1889 opening exudes rustic Aspen charm. Large windows bring in sweeping views of the surrounding mountains.
30 – 200 people depending on arrangement

934 square feet
Exceptional Services
Warm and present, our team has a true talent for sparking joy. We'll work to make your big day your own and handle any plot twists gracefully.
Our world-class dining team will work with you on custom themed menus that incorporate the best of what's in season in the Roaring Fork Valley.
Our specialists are romantics at heart who take a highly personalized approach with each couple to create a wedding that reflects their unique vision.
Email our Wedding Specialist
---
Offers
Daily Breakfast, Rise and Dine
Our special bed and breakfast package offers you a night in comfort and an energizing breakfast either at Prospect, or ordered up to your room—on us. Fuel your adventures with our Jerome breakfast of organic eggs and applewood-smoked bacon or housemade pork sausages, plus avocado on a multigrain and seed toast, and more.
The service from the moment we checked in until our departure was top of the line. The hotel was welcoming, accommodating, and took care of everything we could have needed during our stay/wedding weekend.

via Tripadvisor 2018
Wedding Amenities
Receiving and set-up
From setting up a Champagne toast to scattering rose petals leading up to your reception line, we'll leave no detail overlooked.
Music and entertainment
Our specialists can arrange everything from a live instrumental band to fireworks display over Aspen Mountain.
Couples program
Enjoy a romantic candlelit side-by-side massage and more intimate experiences designed just for couples.
Welcome amenities & VIP gifts
Our welcome amenities connect guests with our deep heritage and include old-fashioned water bottles and red plaid thermoses filled with hot chocolate or cider.
Family program
Adventures the whole family can enjoy range from taking a sunrise hot air balloon ride over the Rocky Mountains to horseback riding past alpine meadows teeming with colorful wildflowers.
Outside Vendors
Our professional staff can help with any technical requirements, from a state-of-the-art speaker system for your reception to lighting.
---
Weddings Gallery
Be inspired by beautiful moments we've created for couples embarking on happily ever after.
Perfect for Every Occasion
Proposals
With legendary spaces and intimately romantic nooks at our hotel—and glorious peaks and alpine meadows just beyond our door—there's no shortage of sublime spots to pop that all-important question.
Elopements & Intimate Weddings
Our wedding specialists are here to help you take the stress out of the planning process and allow yourselves to truly enjoy the sentiment of your intimate ceremony.
Honeymoons
Start your new life together in a truly magical setting featuring breathtaking mountain views, lavish accommodations, and a staff that will discreetly cater to your every want and need.
---
Wedding and Banquet Facilities
| Room Name | Dimension LxW | Ceiling | Square Feet | Banquet | Reception | Classroom | Theatre | U-Shape | Conference | Existing Seating |
| --- | --- | --- | --- | --- | --- | --- | --- | --- | --- | --- |
| Antler Bar | 33′x28′ | 16′ | 934 | 50 | 200 | 40 | 80 | 30 | 40 | - |
| Aspen Times | 34'x26' | 11' | 903 | 70 | 100 | 50 | 80 | 30 | 40 | - |
| Living Room Terrace | 47′x28′ | - | 1,355 | 60 | 80 | - | 80 | - | 24 | - |
| Grand Ballroom | 75′x46′ | 16′ | 3,450 | 300 | 500 | 300 | 400 | 60 | 80 | - |
| Prospect | 34′x33′ | 12′ | 1,122 | 80 | - | - | - | - | - | 65 |
| Wheeler Room | 26′x32′ | 13′ | 852 | 70 | 80 | 60 | 80 | 30 | 40 | - |
---
AWARDS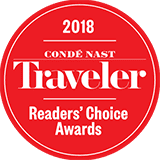 Condé Nast Traveler
#3 Colorado Hotels in 2018 Readers' Choice Awards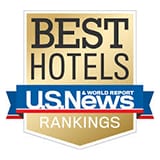 U.S. News & World Report
Best Hotels of 2018, #3 in Colorado, #2 in Aspen and #45 in the USA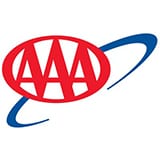 AAA Diamond Awards
Four Diamonds in 2018
---
fun for groups
World-class powder, backcountry adventures, culture, shopping and nightlife come together for the best ski and mountain scene in the Rockies. From adrenaline-packed excursions to definitive cultural festivals, there's something for everyone.
view all
Celebrate 5 Tips for Selecting a Destination Wedding Venue
We specialize in events all over the world. With offices in both Costa Rica and Colorado, we work with clients seeking very different weddings. With the world as your oyster, narrowing down a destination wedding venue can be challenging, albeit exciting. It's my job as a destination wedding planner to help our clients see their vision come to life in a setting that's perfect for them. Over the years, I've created a formula for getting us to the right place. Follow these guidelines and you'll be celebrating in paradise in no time!
Celebrate Make Hotel Jerome Your Own
Dance down halls, cannonball into the pool without reservation, keep the music alive into the wee hours of the morning, and turn every corner knowing that you will only run into your closest loved ones. Go ahead, and rename our modern Aspen landmark as your very own for the weekend. With a Hotel Jerome buyout, enjoy unparalleled privacy in legendary spaces including the Bad Harriet, Living Room, Spa, Prospect Restaurant, and Grand Ballroom, to name a few.